The Kitazawa Museum of Art was founded in 1983 by the industrialist Toshio Kitazawa in his native city of Suwa and is located on the shores of Suwa Lake, in Nagano Prefecture, one of the most beautiful scenic spots in Japan. The collection is made up of French Art Nouveau and Art Deco glass pieces from the late 19th to the early 20th century, as well as a selection of Japanese paintings from the post 1960s era. The glass collection includes the masterpiece "Lamp: Les Coprins" by Emile Gallé, leading artist of the Art Nouveau movement, historic masterworks by the Daum brothers, the works of the Pâtes de Verre artists and glass pieces by the most famous artist of Art Deco, René Lalique. This world-renowned collection totals around a 1000 pieces of work.
The Museum is also home to a collection of 200 paintings from representatives of the greatest modern Japanese artists.
We hope you will enjoy the fusion of East and West found in this exquisite palette of colors, representing nature in both glass works and paintings.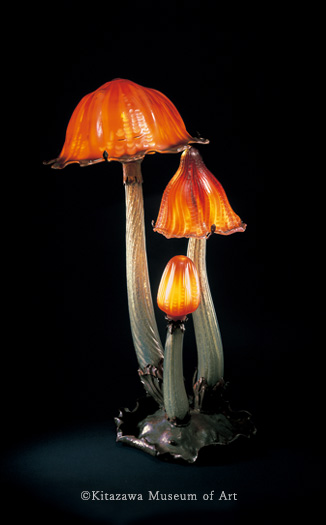 Emile Gallé, Lamp "Les Coprins"